To brand your boxes we offer foil printing.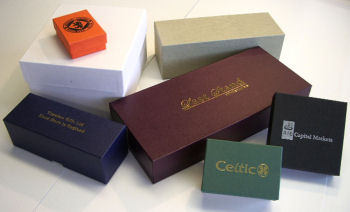 Foil printing is in one colour and can incorporate your logo and wording. This allows boxes to be branded to the occasion, date or event which is great for promotions.
Artwork should be provided as a good quality positive print to size. The detail of the artwork should not be too fine as the process of foil printing does not allow overly fine detail. We do review artwork prior to making the plate and may comment on the quality.
Plate Charge
(To a maximum of 6 inches squared) Please call the office for prices.
Print charge on small plate 30p per unit.
Colours include
Gold
Silver
Black
White
Orange
Blue
Green
Pink


Prices are subject to VAT and Delivery
Presentation Boxes

To start your search for the perfect box size click on a box depth most suited to your needs.
Printed Ribbon

To add a special finish to your packaging check out our printed ribbon section.
Great range for adding that special touch including: tissue, printed tissue, cellophane wrap and shred.
Labels

We can brand your product with labels or screen print