With over 40 different colours of ribbon to choose from in 5 different widths we are sure we can provide that special finished "look" you need.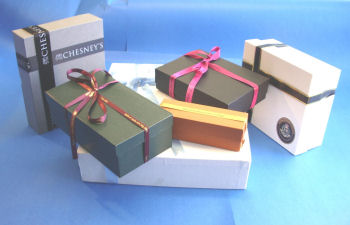 To confirm the prices click here
The ribbon is double sided satin ribbon and printed one side in foil. Foil colours include gold, silver, black, white, blue, green, grey, pink, red etc.
For ribbon colours why not choose a contrasting or a matching colour?
White
Bridal - off white/ivory
Cream
Oyster
Sand Dune
Jasmine - a cowslip yellow
Sunflower - bright vibrant rich yellow
Babe - baby pink
Rosa - a dusky pink
Lipstick - a brighter pink
Beauty - fushia pink
Chestnut - lovely rich autumn colour
Cocao - Rich brown
Expresso - a dark brown coffee
Dolphin - pale grey
Steel - steel grey
Pebble - Dark Grey
Heather - grey with a tinge of purple
Thistle - A pale mauve
Damson - Purple
Regal - a fantastic deep purple
Ocean - pale sea green
Eau De Nil - pale green
Ivy - Greeny brown
Kingfisher - blue
Grass - grass green
Bonsai - deep green
Spruce - dark rich green
Ice - Baby blue
Denim - light blue
Storm - steely blue
Marine - Bright blue
Ink - BLue
Navy - French Navy
Black
Melba - peach
Tango - just like the drink
Blaze - orange/red
Passion - Red
Scarlet
Cranberry - deep red
Claret - deep burgundy red

Colours are highly subjective but hopefully our descriptions can help you in your choice.
Presentation Boxes

To start your search for the perfect box size click on a box depth most suited to your needs.
Printed Ribbon

To add a special finish to your packaging check out our printed ribbon section.
Great range for adding that special touch including: tissue, printed tissue, cellophane wrap and shred.
Printed Labels

For more than one colour branding we offer a high quality labels.